English Language Education and Research
Features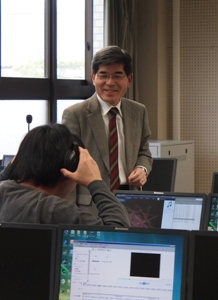 As a result of rapid globalization and the development of information technologies such as the internet, the role of English is now becoming more important than ever in Japanese society, and it is an especially indispensable tool of communication for children who will be living in the 21st century. Additionally, it has become apparent that the conventional English Teacher Training Program aimed mainly at cultivating researchers does not work anymore.

The English Language Education and Research Program aims to help students acquire advanced English language proficiency necessary for daily classroom teaching, as well as expand professional knowledge and improve the techniques of practicing teachers. Its basic stance is that university faculty members and elementary, junior and senior high school teachers learn theory and practice from each other and share information. Classes are divided into a junior and senior high school English education course and an elementary school English education course.
Guideline for Applicants
Enrollment Capacity
Department
Course
Enrollment Capacity
English Language Education and Research
English Education in Junior High /High school
10
English Education in Elementary school
Requirements for Application
Qualifications for non-Japanese applicants whose native languages are not Japanese:
a) Those who hold an official teacher's license.
b) Those who have N4 or higher of the Japanese Language Proficiency Test.
c) Those who have at least one year of experience teaching English after gaining a teacher's license.
d) Those who are and will be English teachers in Japan from the April of admission. Assistant Language Teachers (ALTs) hired through the JET program can be regarded as English teachers.
e) Those who can commute to GSELER while working as English teachers in Japan.
f) Those who have finished 16 years of education in foreign countries and have graduated from any university in a foreign country.
g) Those who will be 22 years of age or older at the end of the March prior to admission.
Duration of course
From two to four years
Admission Schedule
Orientation for Entrance Examinations
(1) June 16, 2018. 16:30 - 18:00
(2) December 22, 2018. 16:30 - 18:00
Application Period
(1) June 22, 2018 - June 29, 2018
(2) January 8, 2019 - January 15, 2019
Admission Examination
(Paper Screening and Interview)
(1) July 29, 2018
(2) February 24, 2019
Admission Results
(1) August 3, 2018
(2) March 6, 2019
Fees
Entrance Fee

¥423,000 JP Yen

Residents of Kobe or Their Children : ¥297,000 JP Yen

Tuition Fee

¥535,800 JP Yen per year
The total tuition of 1,071,600 yen is pro-rated according to the length of the program chosen.
Those who choose the 2-year program pay 535,800 yen per year.
Those who choose the 3-year program pay 357,200 yen per year.
Those who choose the 4-year program pay 267,900 yen per year.
"Residents of Kobe"
-Those who have been continuously residing in Kobe for one year or more before the day of enrollment.
"Their Children"
-A spouse of a Kobe resident or a relative within the second degree of relationship.

Fees above are subject to change.
Contact
For further information about the curriculum or faculty members, please visit
http://www.kobe-cufs.ac.jp/graduate/master/english_edu.html
or contact grad_kcufs(at)office.kobe-cufs.ac.jp
Graduate Section
Kobe City University of Foreign Studies
9-1, Gakuen-higashi-machi, Nishi-ku, Kobe, JAPAN 651-2187