The Course of General Culture
Students who major in the General Culture Course are exposed to a variety of academic fields, which include the cultures and societies of different regions, including Japan, Asia, Europe and the United States. In this course, students will have the opportunity to discuss the relationship between human beings and their environment, or universal social phenomena, which are not restricted to some specific region. Many different kinds of classes are offered, so students can decide which classes they would like to take depending on how they would like to approach the region they are interested in, in addition to what academic approach they would like to take without being limited to the study of a certain region. With such a variety of classes to choose from, students will be able to formulate a course of study that accommodates their own interests.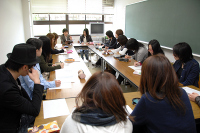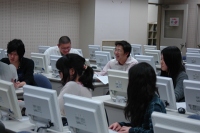 Japan /Asia
In the field of Japanese Linguistics, we have the aim of identifying features of the Japanese language, including its regional variations in sound and grammar.
In the field of Japanese Culture, we focus on its changes brought about by historical factors and regional exchanges, though Japanese "culture" is often seen as being stereotypically fixed.
In the field of Oriental Studies, we have the aim of arriving at a profound understanding of the people who live along the Silk Road of the Southeast Asian continent, through the study of their languages, cultures and histories.
Europe/America
Our university provides a minor in French and German. After learning these languages in the first and second years, students are offered more advanced courses to study western society and its culture and history in the European and American section of the General Culture Course. In seminars, professors provide various lectures to deepen students' interests in related academic fields and area studies that include among others Britain, France, Germany, and Latin America, while exploring the literature, history, and classical languages and philosophies which underlie the essence of European culture.
Human-being and Environment
In 'Human and Environment,' students will study the natural and social environments which surround us and the way in which people live in them. Also they will think about the future living style of human-beings. Specifically, we aim to foster knowledgeable people by providing classes such as pedagogy, psychology, informatics, natural science, and sports culture.