the Linguistics and Literature Course
English
In the Linguistics and Literature Course, students learn about the languages, cultures and literatures of English-speaking countries from various points of view. The Department trains students to be professionals of English who have high levels of English ability and the technical knowledge that will be needed for the true cosmopolitan.
The Linguistics and Literature Course consists of two sub-courses. One is the Linguistics Course in which students deeply consider the various aspects of language itself and foster the ability to apply acquired knowledge to the practical uses of English. The other is the Literature Course. In it, students comprehensively learn about various aspects of English-speaking countries, such as culture, philosophy, literature and society. The Linguistics and Literature Course consists of small-group classes and seminars. It urges students to improve upon and develop their language ability and the basic knowledge acquired in their English major classes. Additionally, this course aims to cultivate students who can work actively as English professionals in the international theater.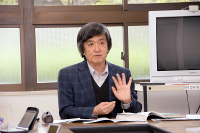 Subjects
Advanced Studies in Anglo/American Culture: In these seminars, professors explore their literary and cultural specialties in depth with their students.
Introduction to Anglo/American Literature and Culture: In these classes, students learn to think methodically and critically about the meaning of culture in English-language societies. Subjects such as film, music, and history, among others, are examined in the context of people's individual lives, as well as the collective cultural consciousness.
Lectures on Phonology and Morphology: Various aspects of English (sound, sentence composition, meaning, conversation, etc.) are explored and explained from a linguistics perspective.
Studies in English Linguistics/Studies in Media English and others: These classes include subjects related to the applied fields of English education and interpretation.
Russia
The best way for Russian majors to efficiently improve their basic Russian language ability is to use Russian as a means of research. In this way, enrolling in the Linguistics and Literature Course, which studies texts written in Russian, is the best choice.
In the Linguistics and Literature Course, the Department gives lectures related to Russian language, literature and culture from the introductory level to the advanced level in order to help students develop their abilities to synthesize Russian linguistics and culture. In seminars, individualized teaching will be provided so that each student can deepen his or her knowledge about individual research themes, and produce results in the form of a graduation thesis.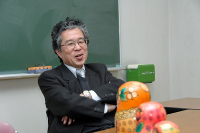 Subjects
Lectures on Russian Literature: Russian literature and issues concerning religious and spiritual practices will be dealt with in theses classes.
Advanced Studies in Russian Linguistics: Students will learn about the structure and history of modern Russian, and Old Church Slavic.
Topics in Russian Culture: The main topics of this class will include Russian culture, the history of literature, and the history of the relationship between Russia and Japan.
Seminar on Russian Linguistics/Seminar on Russian Literature: In these classes, students will read introductory books or theses about Russian language or literature, and learn how to discuss specialized matters.
China
The Linguistics and Literature Course in the Department of Chinese Studies is designed for students who wish to develop their knowledge of Chinese in the direction of "the science of language" and "the art of language". "The science of language" is a field which aims to objectively understand the Chinese system in relation to other languages. "The art of language" refers to novels, plays, and poems. Students will read masterpieces in the original, and cultivate an intuitive sense of Chinese.
This course offers a wide range of subjects relating to Chinese language, literature, cultural anthropology, and sociology. Additionally, there are laboratory subjects and seminars which are composed of smaller numbers of students. Cultural grounding and extensive knowledge about China will enable students to communicate in an informed and cultivated way. The course aims to help students understand China, as well as Chinese language and literature, from a global point of view.
Subjects
Topics in Chinese Linguistics (Cantonese)
Students will learn about the phoneme, grammar, and vocabulary of Cantonese, which is known to be one of the eight major dialects in China, with the aim of deepening their understanding about the bilingual linguistic culture of Cantonese (mainly from Taiwan), Mandarin Chinese, and English.
Spanish
The Linguistics and Literature Course in the Department of Spanish Studies aims to teach the language, culture, and literature of Spanish-speaking countries from various perspectives, while also recognizing various cultural backgrounds. In literature, the deep world of words will be explored, extending from traditional Spanish literature to fantastic Latin American literature.
This course not only explores more deeply the fundamental knowledge students have acquired in the Spanish Major Course and the Department's basic subject classes, but also considers the extensive culture and literature of Spanish-speaking countries. Additionally, the course responds to the various needs of the students by offering laboratory subjects and seminars composed of smaller numbers of students. The goal of this course is to train students to acquire good Spanish skills and the ability to deal with various, different cultures.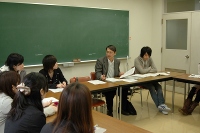 Subjects
Students will take courses such as Topics in Spanish Literature 1&2, Topics in Latin American Literature 1&2, Topics in Spanish Linguistics 1&2, Topics in Spanish Culture 1&2, and Topics in Latin American Culture 1&2. In all of these courses, students will study the science, art, and cultural background of the language.