Department of International Relations
The Department of International Relations welcomes students with the following interests and qualities:
Those students who want to work on the international stage using English and other languages.
Those students who want to work on global problems concerning peace, human rights, and social economic development.
Those students who want to become a specialist or a researcher who specializes in international problems and cultural conflict.
The Department of International Relations was established in 1987. The goal of the Department is to redefine our understanding of our own country by learning about the languages, politics, economies, and cultures of foreign countries, and to deepen the understanding of the relationship between Japan and the world through those learning processes.
English is the Department's main adopted language, and the curriculum is designed to help students acquire the qualities necessary to become active international citizens. Through this curriculum, students are able to study a foreign language (mainly English), along with various specializations such as law, politics, economics, business administration, society, and culture. Also, junior and senior-level students are required to participate in a seminar and to write a graduation thesis on a self-chosen topic.
International society is now facing a situation in which the conventional ideologies and the sense of values are changing. Additionally, it is also facing the global mobilization of people, objects, and money. As a result, graduates who can manage such complex issues with interdisciplinary knowledge and a well-balanced international outlook supported by wisdom will be needed in the 21st century. The Department of International Relations is committed to instilling in its graduates such qualities.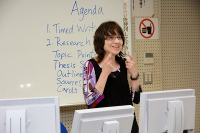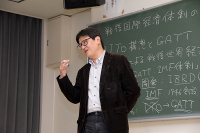 Curriculum
The curriculum of the Department of International Relations is aimed chiefly at training students to react at a high level of ability to "the modern world". Throughout their four years of college, students will enhance their practical English skills by taking the English Major Course along with a Minor Language Course, a combination which aims to cultivate the ability of managing more than one language. Additionally, by taking the department's basic subject and common subject courses, students will be exposed to a variety of current knowledge in the international world. Then, by taking the department's core subjects which are in the established fields of law, politics, and economy—all of which are taught from an interdisciplinary perspective—along with the department's optional subjects, students will acquire the knowledge to make their language skills more practical, so that they can perform well in the real world. In their third and fourth years, students will be required to choose a seminar and write a graduation thesis under the tutelage of teachers who specialize in international relations and cross-cultural understanding.