1946 - 1949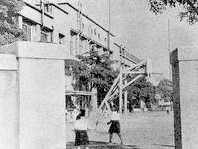 Prior to World War II, the City of Kobe had no municipal institution of higher education. Following the end of the Pacific War, there arose among the people of Kobe a determined movement to establish a city college befitting an international port city dedicated to the higher ideals of peace and culture.
An early plan was developed, but ran into difficulties because the war-devastated city had not yet restored itself to its former prosperity. It was also the policy at the time of the American Occupation authorities to discourage war-damaged cities from establishing institutions of higher education, because the expense would be beyond their means.
After repeated requests, however, an exception was made in the case of Kobe, and the city was allowed to establish a college for the study of foreign languages and cultures. On June 1, 1946, the Kobe Municipal College of Foreign Affairs was established with a three-year curriculum centered on English, Russian, and Chinese language studies.
1949 - 2006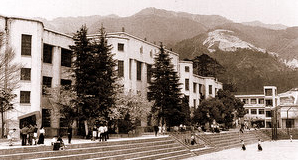 In the wake of Japan's steady recovery from the ruins of war, sweeping changes took place in the Japanese educational system. In April 1949, with official approval from the Japanese Ministry of Education, Kobe Municipal College of Foreign Affairs expanded into a full four-year university, and was renamed Kobe City University of Foreign Studies.
Since its inception, the University has been characterized by a commitment to growth and development. In 1953, the evening courses were added. As Japan's trade relations with Latin-American countries increased, a Spanish department was added. In April 1967, the university established a graduate program leading to a Master's degree in the departments of English, Russian, Chinese, and Spanish. In April 1987, a new Department of International Relations was added, and later, in 1991, the university established a graduate program in International Relations and Japanese studies.
As the City of Kobe grew in population and economic importance, the idea of developing an "Academic Town" for its citizens took shape. Called "Gakuen-toshi," the new academic community is located amid quiet surroundings overlooking scenic mountains in the western part of Kobe. In 1986, the university moved to its new campus and, along with several other universities, forms the center of the new academic town. In 1996, the university established a doctoral graduate school for international cultural studies.
2007 to the present
KCUFS was turned into independent administrative university.