Outline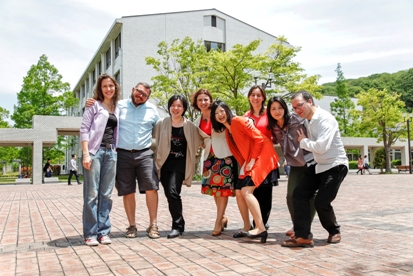 The Doctoral Program provides students with a choice of three courses: the Linguistics Course, the Cultural Studies Course and the Social Studies Course. Students study the interchange, contact, friction and coexistence of cultures, all common to their fields of study, while they are also engaged in research in their respective areas of specialization. This curriculum gives students the opportunity to be original and creative, and it aims to foster those who can reshape conventional and closed fields of study into highly interdisciplinary new ones.
Program Completion Requirements
A candidate for the Doctor's degree will study at the university for three years or longer, acquire 6 credits or more from the predetermined class subjects, submit a Doctoral Dissertation and pass its screening in addition to the final examination.
Doctoral Dissertation
Doctoral students must submit an "annual study report" to their supervising professor in both their first and second years according to the "writing plan" submitted upon enrollment. Those who pass the screening of the second year report are allowed to write a Doctoral dissertation and apply for preliminary screening. Students who pass the screening are then allowed to apply for the final screening. The final screening committee is composed of scholars, including at least one from outside this university.
Guideline for Applicants
【Enrollment Capacity】
Major
Course
Enrollment Capacity
Cross-Cultural Interaction
Linguistics Course
12
Cultural Studies Course
Social Studies Course
【Requirements for Application】
Applicants are required to meet one of the following criteria:
You must:
・Have completed or be expected to complete a Master's Program in a foreign country prior to the entrance day
・Be recognized by KCUFS to be academically eligible to apply by an individual prequalification and become 24 years old or over prior to the entrance day
【Duration of program】Three Years
【Admission Schedule】
Application Period
January 6, 2023 - January 12, 2023
Admission Examination
(Paper test and Interview)
February 11, 2023
Admission Results
February 17, 2023
【Fees】
Entrance Fee
¥423,000 JP Yen
Residents of Kobe or Their Children: ¥297,000 JP Yen *
Tuition Fee
¥535,800 JP Yen per year
"Residents of Kobe"
-Those who have been continuously residing in Kobe for one year or more before the day of enrollment.
"Their Children"
-A spouse of a Kobe resident or a relative within the second degree of relationship.
Fees above are subject to change.
Contact
Graduate School Section
Kobe City University of Foreign Studies
9-1, Gakuen-higashimachi, Nishi-ku, Kobe, JAPAN 651-2187
e-mail: grad_kcufs(at)office.kobe-cufs.ac.jp
     *Please replace (at) with @.