KCUFS to Host 2016 NMUN Japan Conference
Kobe City University of Foreign Studies has been chosen to host the 2016 NMUN (National Model United Nations) Japan Conference by the NCCA, an organizing body for NMUN conferences, including the annual New York Conference of more than five thousand participants. This is the first time a Japanese university has been selected to host a NMUN conference. Approximately 350 university students and faculty from all over the world will join the one-week conference to be held in Kobe in the autumn of 2016.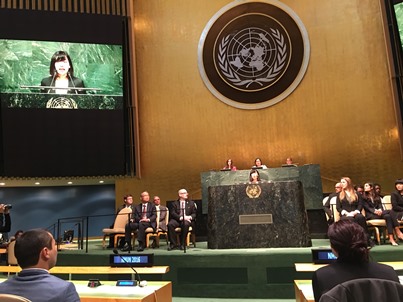 NMUN New York Conference
The activities of Model United Nation simulations are aimed at deepening the understanding of international issues by simulating the UN system. Delegates from diverse cultural backgrounds negotiate and discuss these issues in order to develop policy proposals. NMUN is an excellent opportunity to enhance negotiating skills and the persuasive power of each participant.
Message from the President
It is my great pleasure and honor to welcome university delegations from Japan and abroad to the 2016 NMUN Japan Conference held here in Kobe on the occasion of the 70th anniversary of the foundation of KCUFS. I believe that the NMUN conference, held for the first time in Japan, will be a prime opportunity not only for young Japanese students to develop their international communication skills but also for the students around the globe to better understanding of the characteristic features of Japanese society and culture first hand.
We are very glad to contribute to the prominent educational programs of NMUN by hosting the 2016 Japan Conference. We hope that our experience in Model United Nations activities over the years will ensure that we can offer enjoyable and educational events throughout the conference. Delegations will have a chance to visit the Hiroshima Peace Site as a symbol of international peace and disarmament issues as well as the World Cultural Heritage sites in Kyoto that represent some of the finest examples of Japanese traditional architecture. I am looking forward to meeting the delegations in Kobe next year and sincerely hope the conference will be a great success for all of those involved.
2016 NMUN Japan Conference: http://www.nmun.org/nmun_japan16.html