Study at KCUFS
Study at Kobe City University of Foreign Studies
International Students
KCUFS accepts international students as study-abroad, undergraduate, graduate, and research students. Study-abroad students can take Japanese courses in Japanese language education programs.
For more detailed information, please check Japanese Language Education Programs.
Undergraduate Students
KCUFS has a special selection process for applicants who are over 18 years old and have foreign citizenship.
Postgraduates
Research Students
Foreign postgraduate students can research for one year with a tutor based on their own research interests in conjunction with the KCUFS graduate course. However, foreign postgraduates may be able to extend the duration of study one more year.
Graduate Students
For more detailed information, please check Admission Examination for graduate program
Housing Information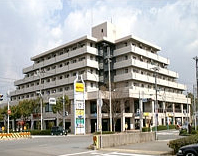 Exterior of KISC
Kobe International Student Center
Kobe International Student Center(all furnished apartment)houses international students. If rooms are available, applications can be accepted in May, July, September, November, and January.
Address: 4-1 Gakuen-nishimachi, Nishi-ku, Kobe, Hyogo 651-2103 (15-minute walk from KCUFS)
Initial fee
Single  20,000 yen
Double 25,000 yen
Rent
Single  24,000 yen/month (77 rooms in total)
Double 39,000 yen/month (15 rooms in total)
- Internet and utilities are not included
Room
All furnished (Bed/ Bath/ Refrigerator/ Desk/ Chair/ Air-conditioner/ Bookshelf/ Closet)
Facilities
Sports room/ Kitchen/ Laundry room
Off Campus Apartment
The International Office can help students find apartments near the campus.
Study in Japan
The portal site, Gateway to Study in Japan by JASSO (Japan Student Services Organization) offers abundant and useful information supporting study in Japan, to prospective international students, international students in Japan and former international students by classifying information into the three categories. Please exploit the site. (Click Here for Gateway to Study in Japan)
Kobe City University of Foreign Studies. All Rights Reserved.
9-1, Gakuenhigashi-machi, Nishi-ku, Kobe, JAPAN 651-2187 Phone: +81-78-794-8171 / Facsimile: +81-78-794-8160 / Email: international-office@office.kobe-cufs.ac.jp