The Course of Social Sciences
Features of the course
In order to become internationally active, it is important to understand the way society works. To acquire systematic knowledge of social sciences, the curriculum of this course has been designed as follows:
(1) First and second-year students learn a social-scientific way of thinking, and acquire basic knowledge that is needed to develop expertise.
(2) Third and fourth-year students: develop from their basic knowledge a logical and practical knowledge of law, economics, and commerce.
(3) All students are required to study each area of the social sciences from a variety of perspective with a critical point of view. In seminar, we aim to cultivate the students' abilities to analyze social phenomenon by themselves, and to foster people who can look at problems from an international perspective.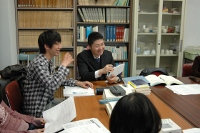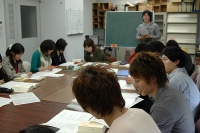 Study of law
Students can study Constitutional Law or Civil Law depending on their interests, after taking an Introduction to Law class. Subsequently, students can take specialized classes such as Administrative Law or Commercial Law or International Trade Law, assuming they have already gained the basic knowledge of Law.
Economics
Based on the knowledge gained in Microeconomics and Macroeconomics classes, students can also take classes such as Industrial Organization or Applied Macroeconomics, which are essential to understanding economic trends.
Commercial Science
Students will learn fundamentals which are essential to understanding corporate activities in Introduction to Business Administration and Introduction to Accounting. Then the students can learn about the management strategies of global companies in Business Administration, business accounting principles in Accounting, and importing and exporting in International Commerce and Business English. This course develops human resources who can use English as an active tool to understand global corporate activities.